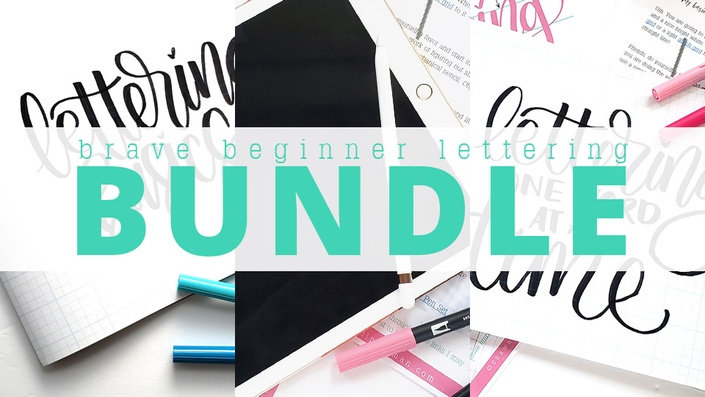 Brave Beginner Lettering Bundle
The perfect 3 lettering courses to get you FINALLY lettering for reals!
Watch Promo
Does any of this sound familiar?

You've told yourself over and over, "THIS is the year I'm going to teach myself hand lettering..."
You scroll endlessly through social media, hearting all the things... dreaming of writing those words floating around in your head in a pretty flourishy calligraphy script....
You keep buying markers, or workbooks, or maybe even an iPad, telling yourself that that is the secret tool that will get you on your way...
You know it takes practice, but every time you start playing with lettering you get frustrated and give up before you've really learned anything at all...
Maybe you feel like maybe you are missing something... Maybe you wonder if you just don't have the special "skill" it takes to create pretty lettering...

You aren't missing some skill or talent, all you are missing is someone to show you how!
Broken down into easy to follow, bite-sized lessons, you can teach you to learn beautiful words! No more endless googling for video tutorials, no more buying all the markers hoping for the magic one, no more putting off picking up those tools because you are afraid that learning to will take too long, no more giving up before you even get the chance to begin! You can follow along at your own pace, step by step, and finally start creating hand-lettered words you love!
Introducing:
The Brave Beginner Lettering Bundle
Finally start lettering for REALS.
Perfect for lettering newbies and wannabies, the stuck in a rut-ers, the frustrated and ready to give up - and anyone looking to finally learn to letter… for reals.
In this series of three full courses I will walk you through exactly what you need to actually be successful in your hand lettering practice from start to finish.

Lettering Basics:
In Lettering Basics you will learn exactly how to get started, step by step - walking through the techniques you need to letter each letter of the alphabet! You will learn how to avoid the common mistakes that can derail lettering artists early on, and how to solve problems so that you can really learn to letter successfully!

We Will Cover:
How to get comfortable with your lettering tools.
How letters work, and all the fun you can have with them!
How to practice in ways that are low key and even FUN.
PLUS how to make your lettering your OWN.
Lettering One Word at a Time

In Lettering One Word at a Time we will take those letters we learned in our basics course and combine them so that you can hand-letter ANY WORD YOU WOULD LIKE!
We Will Cover:
Lettering layout and spacing.
Lettering connection types and how to use them.
Ways to add extra flair to your words by playing with acenders, decenders and other special lettering features.
What to do at the beginning and end of your word.
How to add some "bounce" to your word.
AND a few fun little flourishing tricks to really make your word shine!
iPad Lettering for Total Beginners
Our iPad Lettering for Total Beginners course is a fun extra bonus course that will walk you through each and every step of how to get started if you would like to letter on your iPad. No more endless googling, no more technical overwhelm - let me make it simple for you, so that you can finally put that powerful piece of technology to good use!
We Will Cover:
The differences (and similarities!) between lettering on paper, and lettering on your iPad.
The absolute basics of how to use the Procreate app for lettering (I'm not going to overload you with techical details you don't need to know!)
Where I've found my favorite lettering brushes.
And a few extra little playful ways to jazz up your lettering in Procreate!
PS - Don't have an iPad? Don't worry you still save $$ on the two main pictures when you pick up the bundle!!!
As if that isn't enough: These courses are all chock-full of worksheets, informational reference printables, and downloadable extras that will serve you even more MORE along your lettering journey!!!

PLUS you are invited to join our free Facebook community so that you have a space to ask Shawna your questions and share your work with all your new lettering friends along the way!!!
Please note: Two of these courses are currently in development and are being sold as pre-sales. When you purchase this bundle you will have instant access to the Lettering Basics course. The iPad Lettering course, and the Lettering 1 Word at a Time course will be rolled out over the next month, one at a time.
You can expect full access to all three courses by June 30th, 2020.
Courses Included with Purchase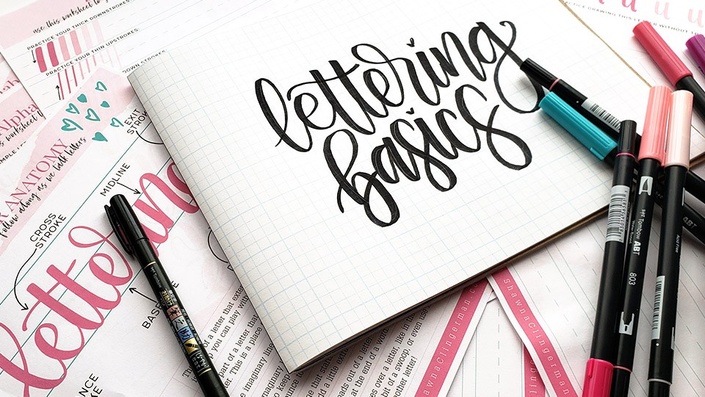 Lettering Basics
Everything you need to know to start having fun with lettering!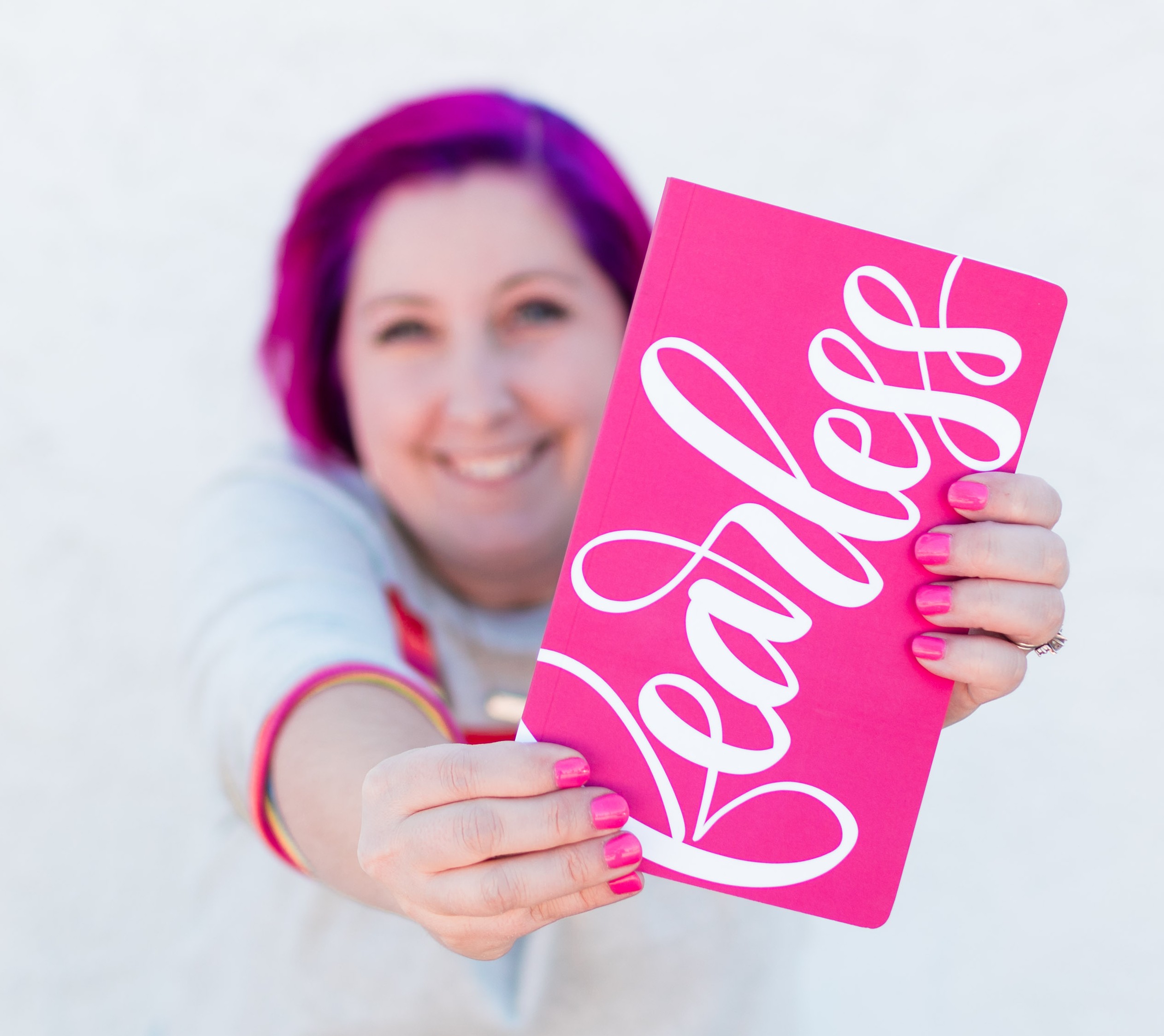 $49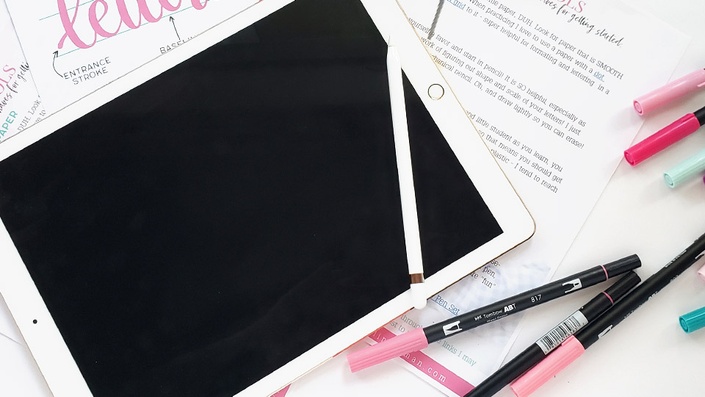 iPad Lettering for Total Beginners
The essential basics you need to know in order to letter with your iPad and Apple Pencil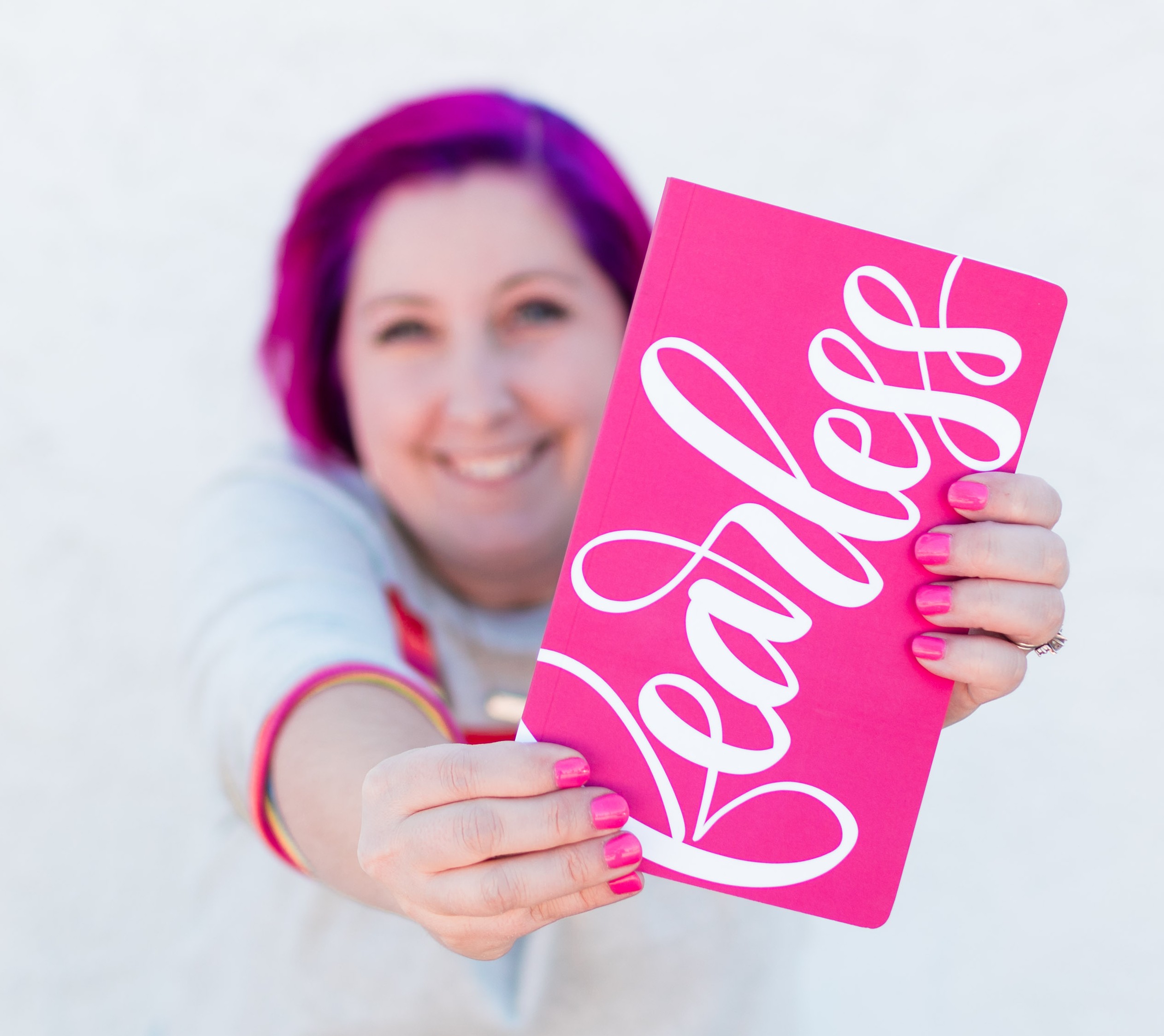 $29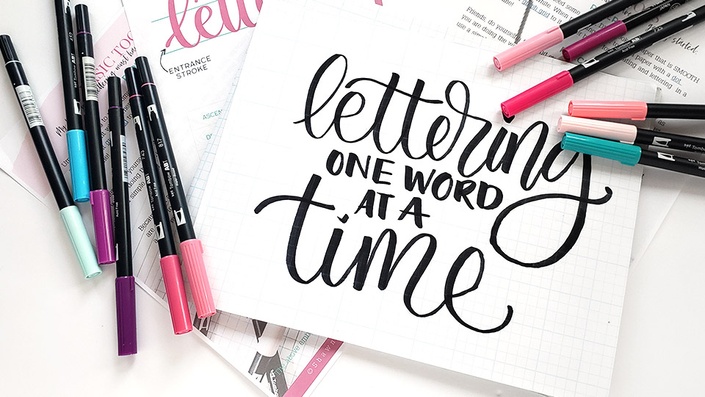 Lettering One Word at a Time
Take those lovely letters you are learning and build them into any word you want!!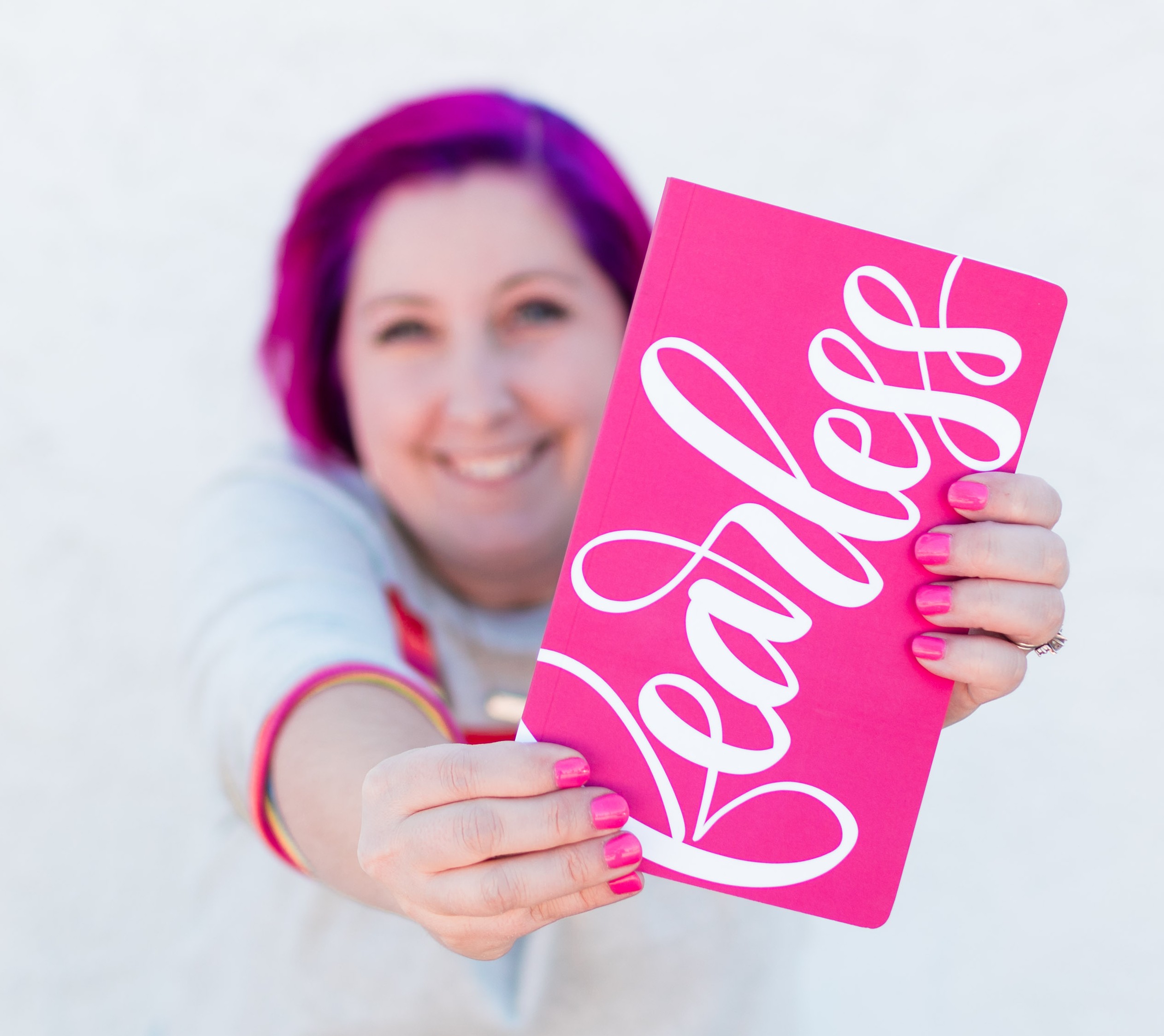 $49
Original Price: $127
Buy the full bundle and SAVE!!!
Your Instructor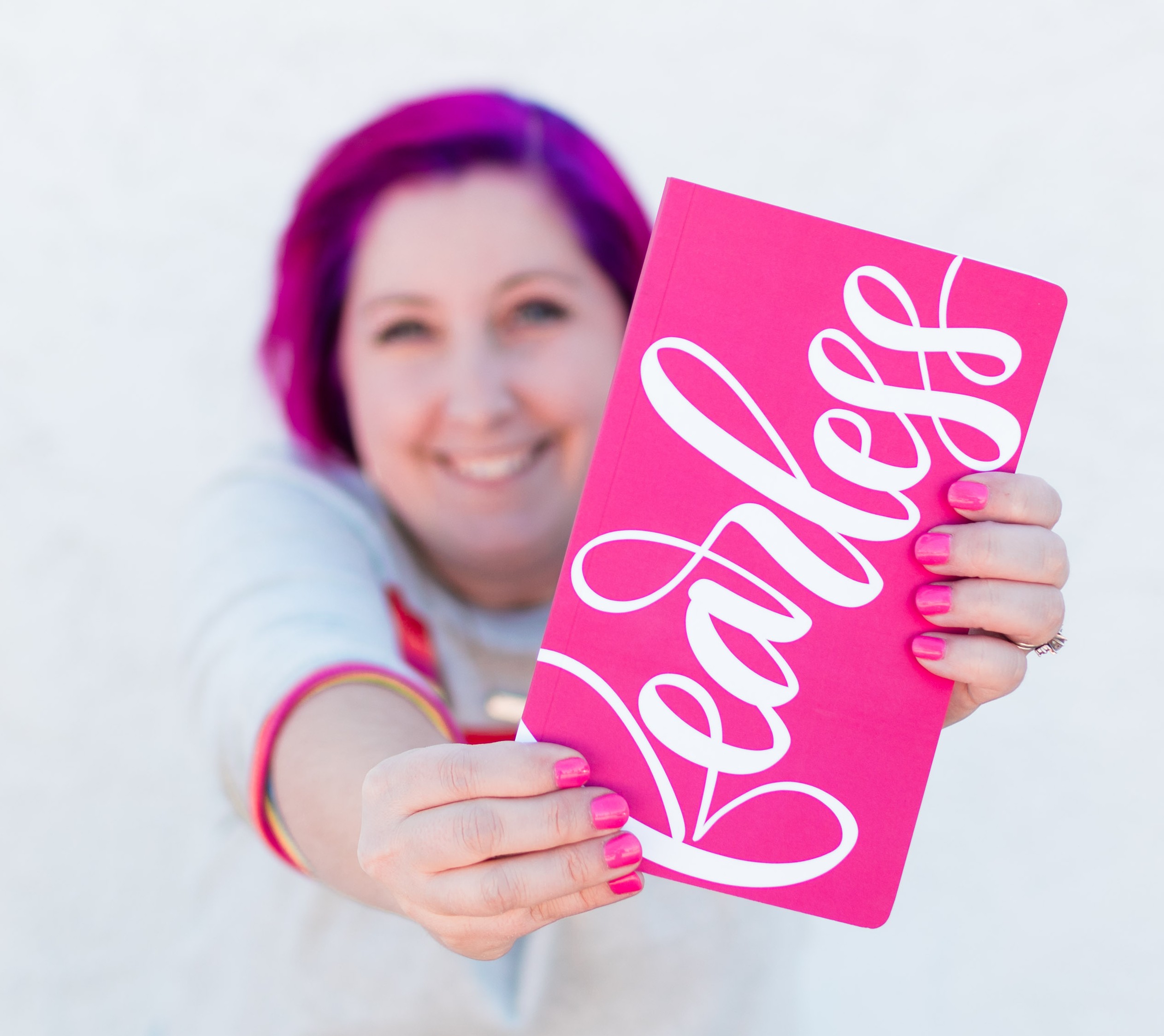 Hi, I'm Shawna!!!
I am the creator of "Fearless Art," an 8 week online workshop where I help creative souls like you get comfortable in your skin as an artist AND how to make a living doing the work you LOVE.

I have 15 plus years experience creating art for companies like Illustrated Faith, American Crafts, Photoplay Paper, Paper House Productions and other major craft companies who have put my work into production and on the shelves of stores across the globe!
My biggest passion is mentoring and teaching creatives how to create from a confident, authentic place!
I believe the world needs brave artists with a passion for creating from a place of HEART. Let me show you how!

❤ Shawna
Frequently Asked Questions
How long do I have access to the course?
How does lifetime access sound? After enrolling, you have unlimited access to this course for as long as you like - across any and all devices you own.
What if I am unhappy with the course?
We would never want you to be unhappy! If you are unsatisfied with your purchase, contact us in the first 30 days and we will give you a full refund.
When will these courses become available?
Lettering Basics is LIVE and ready for you as soon as you purchase, the other two courses will roll out over the next several weeks, with the final course going live by the end of June 2020!
What if I don't have an iPad?
Only the iPad course specifically needs an iPad to follow along. The rest of the courses are set up with both paper + marker users, AND iPad users. Even if you don't need the iPad course, you still save $$$ when you buy the bundle!!!
What supplies do I need for this course?
You will need a brush marker, a pencil, an eraser, and paper - don't worry, I'll share some suggestions at the beginning of our Lettering Basics course!!!
Friend, I KNOW you are READY to letter pretty words, and I know I can show you how!
Let me handle all of the hard parts, and teach you the FUN parts!
You can do this! Let me show you the way.